Полный текст
Dmitry Kozak, Deputy Prime-Minister of the Russian Federation, addressed the Federation Council of Russia during its "Government Hour" meeting speaking about the prospects for the effective post-Games use of Sochi's Olympic and Paralympic venues. He also outlined plans for the development of the Russian International Olympic University.
"Let me remind you that the University's Board of Trustees is chaired by the President of Russia. We will see to it that RIOU's educational services are accessible to everyone – retired athletes in the first place. The University's doors will be open to applicants from all Russian regions wishing to undertake a professional development course", said Dmitry Kozak.
The Deputy Prime-Minister noted that all video materials and information programmes related to the staging of the 2014 Games will be transferred to RIOU for educational use.
According to media reports, the Federation Council will issue recommendations to the Government on the basis of Mr Kozak's speech.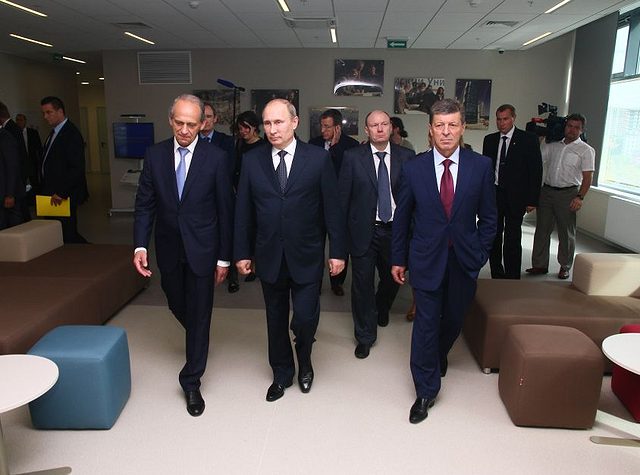 Picture: Russian President and Chairman of RIOU's Board of Trustees Vladimir Putin, Deputy Prime-Minister of Russia Dmitry Kozak, founder of Interros company and Chairman of RIOU's Supervisory Board Vladimir Potanin, RIOU Rector Prof. Lev Belousov at the inauguration of the University's campus on September 16, 2013.