Полный текст
A group of Israeli journalists and students visited the RIOU campus in Sochi within the framework of a special programme administered by the Russian Federal Agency for the Commonwealth of Independent States, Compatriots Living Abroad and International Humanitarian Cooperation (commonly known as Rossotrudnichestvo). The programme provides foreign citizens with a chance to get to know modern Russia, so the host city of the 2014 Olympic Games became a key point in the itinerary of the Israeli guests. While in Sochi, they learned about the prospects for enhancing tourist ties between the two countries, familiarised themselves with the work of the local municipal authorities, and saw how the Olympic legacy is being used post-Games. Members of the Israeli delegation had a tour of the Olympic Park, Krasnaya Polyana and the Rosa Khutor alpine resort, as well as visiting the campus of the Russian International Olympic University (RIOU).
Sharing his impressions, Yarden Amir, a student from Tel Aviv, said: "I learned about Sochi during the 2014 Winter Olympics. Though we have no snow in Israel, our national team took part in the Games. It surely was great seeing everything with our own eyes. I also liked the Olympic University. It's an excellent idea to set up a university in which ex-athletes can get further education and make a new career. The campus itself is impressing indeed. It's such a modern building, with all the state-of-the-art facilities!"
Yarden is studying history and Russian, and is now preparing to defend a thesis on Russian emigration to Israel. He believes that programmes run by Rossotrudnichestvo allow the participants to not only see things they have only read about in books but also get a deep insight into the riches of the Russian culture.
Last July RIOU and Rossotrudnichestvo signed an Agreement on Cooperation, which designates collaboration in the field of education as a key area of joint activity. Special emphasis will be placed on promoting Russian educational services on the global market, expanding contacts between partner countries, as well as increasing academic mobility of students and teachers.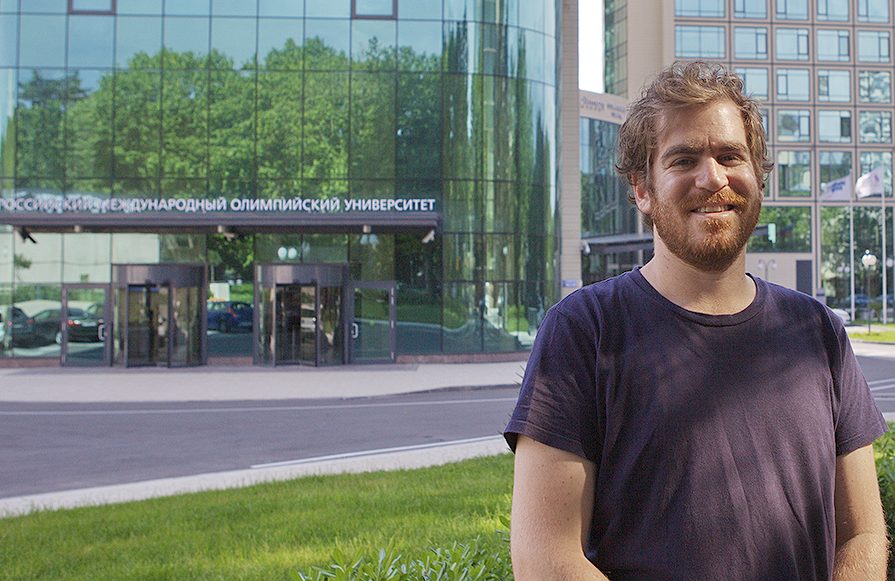 Picture: Israeli student Yarden Amir on a tour of the Russian International Olympic University (RIOU) in Sochi