Полный текст
On December 10, 2014 RIOU hosted an open lecture by Richard Cregan, international consultant and CEO of Rasgaira, an international events management company that provides consulting support to Sochi Autodrom for the Russian Grand Prix. Richard Cregan's lecture "Build locally, expand globally" focused on the experience of delivering Russia's first ever Formula One race.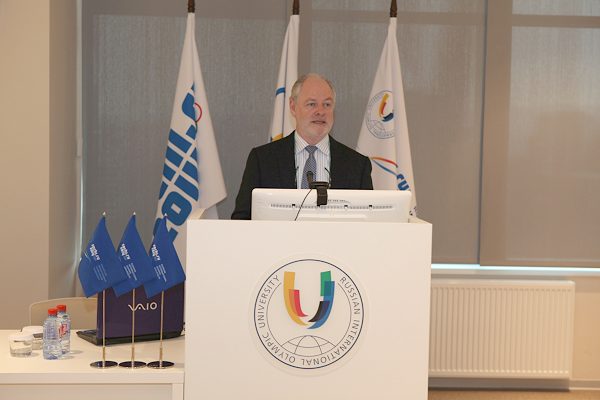 He said that hosting high profile events opened up Sochi to the world and created an attractive international brand. 'The city now has an amazing platform and facilities that must be used for the sustainable development of the region's economy', he added.
Richard Cregan described the use of the Sochi Olympic Park for building the F1 circuit as a prime example of post-event use of sporting facilities. F1 specialists, in their turn, will use the track between major competitions for organising a sports school, amateur races, marathons and other events. Such solutions ensure the development of both the sports infrastructure and the associated industries, such as hotels and restaurants.
'I strongly believe that Sochi will become a model of sports facility management, so professionals will start coming here to learn and gain experience. And this process will be facilitated by the Russian International Olympic University, which trains management specialists', said Mr Cregan.
Richard Cregan's lecture was organised under a partnership agreement between RIOU and Sochi Autodrom, which, among other things, seeks to create a joint research and education platform for training managers for motorsport events. During the Russian Grand Prix, the RIOU students undertook their first practice programme, devised by the university's professors in association with Autodrom specialists.