Полный текст
Among the diverse range of educational events hosted by RIOU, visits and guest lectures by leaders of the world's top sports organisations have a special place. This spring RIOU had the privilege of welcoming Ivo Ferriani, President of the International Bobsleigh and Skeleton Federation (FIBT). In his interview with RIOU Herald, Mr. Ferriani spoke about the global development of these sports and Russia's role in the process, as well as sharing his views on the philosophy practiced by the FIBT's management team.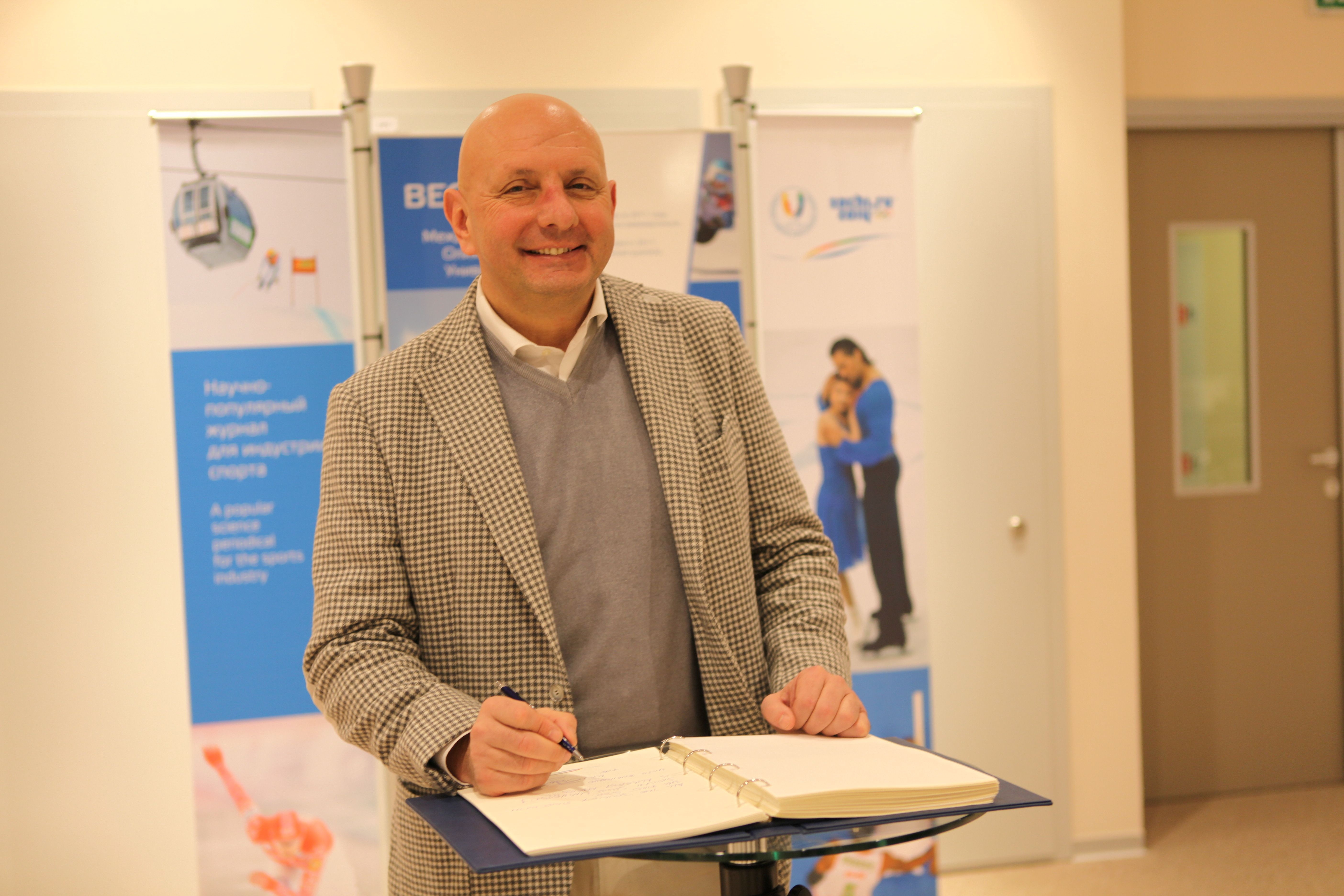 Mr. Ferriani, thank you for agreeing to this interview for RIOU Herald. The first question deals with the current state of bobsleigh and skeleton in the world. Could you outline for our readers how these sports have been developing, what is their geographic span and the so-called growth points?
Bobsleigh and skeleton are now ready to go to countries that were not so familiar with these sports before. We are ready to open federations in, let me say, exotic countries – in South America, and now also Asia because with the Games in PyeongChang we will have an opportunity to improve our presence in this area. And of course it is necessary for us to think about bobsleigh and skeleton in the modern way. Therefore, we open new disciplines, like monobob, to kids – just to facilitate their approach to our sports. Now they can start at fifteen, and starting early is good because children begin to learn to slide. We must also open the door to the new opportunities like mixed gender teams. That was tested already in the last season, with a female pilot driving for three men. Overall, our motto is simple: Slide into the Future. So we must really think what the future for our sport is, and slide into in. It's very important.
What do you think about the Sochi track?
The Sochi track is one of the best in the world. Of course it's the newest one because it was built for the 2014 Games. The quality of the track is excellent, and the safety level is extremely high. Due to the particular position of the area, the Sochi track is also a focal point for the FIBT to develop our sports in this region, the east of Europe. We can send young pilots here to learn, because it is a fantastic track to learn the sport from beginner and on. So, the FIBT is strongly committed to supporting the Sochi track in the next year, and we plan to be present here many, many times. You know that in 2017 we are having our world championship here, so it's very important for us to be strong. I'm absolutely committed to this track, it's fantastic.
What year will the world championship be held?
In February 2017 we will hold our world championship here. That will be a kind of a rehearsal before the 2018 Olympics, the highest point before the Games. I think from Sochi to PyeongChang, it will be a good line just to continue this road to the Games.
The Sochi 2014 Games were the first Olympics that you were involved in as FIBT President. Looking back, how do you feel about that time?
In my career I had a chance to attend eight Winter Games. Sochi 2014 was my first Games as FIBT President. The emotion was huge but it wasn't just that. I felt proud because of working very closely with the Russian Federation, the Russian Ministry of Sport. The Sochi Organising Committee was able to create a fantastic foundation for our track. All the problems were solved together, and common work creates a great moment of passion and emotion. I think for Russia that was a great moment too, because three gold medals for the Russian team, one in skeleton and two in bobsleigh, was a massive achievement. And we cannot forget the bronze medal in women's skeleton. So for me it was a huge emotion, as I shared this moment with great friends. Also, the FIBT's commitment was confirmed, and one year later we were in Sochi again with all our champions, and everybody was happy.
How satisfied are you with the current pace of development of bobsleigh and skeleton in Russia?
Bobsleigh and skeleton are growing very well in Russia. The vision of future proposed by Mr. Bedzhamov, President of the Russian Federation of Bobsleigh and Skeleton, was surely a good one. After the Sochi Games he decided to renew the team and train new athletes for the 2018 Games. Of course it's a challenging task because you cannot win every year. But when you begin creating a new team, you must be patient, and I'm sure that the result will come already the next year. In any case, at the 2017 world championship in Sochi we will see the new Russian team, which will be ready to compete for great results in PyeongChang in 2018. So, I congratulate the Russian Federation of Bobsleigh and Skeleton, and the Minister of Sport, on their big commitment to developing these sports in their country.
Could you tell us about bobsleigh and skeleton fans? Who are these people?
One of the biggest challenges of the FIBT is to reach new spectators and the new generation of spectators, especially because with today's rich opportunity to reach your audience through different communication platforms you must be very competitive against other players in the field, i.e. other sports. The FIBT's Vice President for Communication, Mr. Georgy Bedzhamov, is committed to helping the FIBT create a new communication platform to reach more and more spectators, and increase the popularity and attractiveness of our sport. We are working together with all our functions – Sport, Communication, Marketing – to create this condition. We have prepared a new programme of communication with Mr. Bedzhamov, which will be launched at the next FIBT congress in early June in Belgium. We are confident that in three years' time our share of spectators will be growing. We are strongly focused on achieving this goal because one of the ways to grow is to capture the attention of spectators. It's a very difficult challenge because we have very professional competitors, other sports holding events in the same period. But with the new concept, we are sure to reach this objective. Our Russian Vice President, Mr. Bedzamov, is committed to making sure that bobsleigh and skeleton are growing worldwide.
What do you think attracts spectators to your sports?
We are without doubt the Formula One of the winter sports. But it's not enough to just hold a race. Like in Formula One, we use information display capturing all the different physical data we can make available to spectators. We have gyro capture, gravity capture, acceleration capture, so we show on the screen not just the time but also the G-force acting on the competitor during the slide down. We also use Dartfish system to show the different lines of pilots, so we want to give spectators more opportunity to be inside the race, to see how it works, what factors determine the athletes' performance, and to help them understand why one hundredth of a second or more was lost and in which place. That's what we need to increase the appeal of our sports. Achieving this is not easy and requires a lot of investment but, again, we are very ambitious, and we want to use our chance to make people happy and fall in love with us.
As far as I know, some leading car companies are interested in providing teams with bobs.
The project of real-time data capture is led by Omega, but at the moment there's also interest from car companies that help teams create new sleds. We have some very big brands helping us – BMW, Ferrari, Mercedes, and Lotus. These companies are working with teams to build new sleds, and that means that the interest of car manufacturers is there. The next step is to show the technical potential of our sports on TV. Constructors' championships could, for example, enhance the appeal of our disciplines, because companies that are now involved in developing sleds would also compete to win this particular competition.
Does the team choose the brand, or is it the other way round?
I think big brands want awards won by big teams. And big teams want to have the best of friends.
I see, the winners choose the winners.
Exactly. It's like in a married couple. You must love each other. If you have the condition to love each other, then you fall in love and have a great marriage.
So, each side suggests conditions, and then sees what suits it best.
That's right. But we have different situations. In Italy they have Ferrari which helps the Italian team; BMW helps the Germans and US team, and Mercedes helps the Russians because there's a great market for them in the country. That's important for us, and I'm happy to see the big brands coming to our sports.
Why not choose KAMAZ for Russia?
Everyone's welcome. I've heard that a good Korean car company wants to support the Korean athletes. In my opinion, that's the best condition to develop our sports.
What does the Federation do to meet the demands of the TV audiences and make these exciting sports even more spectacular – perhaps, by looking at ways of improving the quality of broadcast, changing competition rules and calendars?
The FIBT has always been committed to its stakeholders and partners in finding the best way to present our sports. That means we are very flexible when it comes to adapting our calendar to TV requirements, as well as adapting the disciplines to a more dynamic and more interesting new format. Of course we must keep in mind that the basic thing is to create fair competition for athletes, but we should also give an opportunity to the sport itself to become more dynamic. We certainly want to be more dynamic. If I can put it in one word – we want to be a chameleon, not a dinosaur. We are ready to change and embrace new ideas, and many things are being done now to create more attention to bobsleigh and skeleton. We already have commissions working to find the best way to accomplish this. Again, that's not easy but we are ambitious, so we will manage to find the new path. We actually have a new proposal ready for the next season but it's too soon to open it up.
You have a partner media company, whose representative has come here with you.
Yes, Infront Sports & Media is our major partner for TV and media rights, as well as TV production. In cooperation with them we try to find the best way to offer the best product, and to show our sports in the most flattering light. It's challenging because other competitors, other disciplines, also have good products to show. But an important thing is to understand that we are prepared to change, renovate and adapt ourselves to the new format. Sliding into the future means understanding which future we want to achieve and then going straight there. As I said before, we must be chameleons, not dinosaurs.
Could you tell us more about your team? Who are these people? How did they get into this job?
When I was elected, I had to come up with a vision of our future, following my motto 'Slide into the Future'. For me the future was about creating a more dynamic federation, and in order to achieve it I needed to make sure that people understood what dynamic means. I created a new team drawing on the existing team, because we cannot forget where we come from, and we cannot lose the experience that people have accumulated over years. And then I tried to add to the existing experience and knowledge some new things. I looked for motivated and positive thinking people, different kinds of people. And I encouraged this group to work together in a new way. Our Secretary General is a lady ̶ Heike Größwang from Bavaria, Germany. She is a very dynamic person ̶ positive thinking, very hard working and very flexible. She has the straightness of the German culture but also the flexibility of the Italian culture. It's a mix but, working with me, she could not be different. We formed our team from people selected on the basis of their capacities of course, but also based on their attitude. I want to have very positive people, who are not just professionals but have a particular attitude to work. I believe people should do their job with pleasure, and I'm very careful about the quality of the environment we work in. Actually, Sochi was a good place for us to find new staff. Our current Sports Director is Normunds Kotans, who worked as a sports manager at the Sanki Sliding Centre. He's Latvian but he was involved with the Russian system, and after the Sochi experience he came to our office to become one of the pillars of our work. We want to have an international team that is positive and committed to our mission. It's up to me as the leader to create these conditions, and right now I am very happy. Our group is trying out this new philosophy, and it is very productive, effective… and smiling. I want to see smiles on faces of my people because it's the first symptom I need to receive every morning about the quality of our work.
Over a cup of coffee?
Coffee breaks also play a role but I always tell my people after hard day's work: "Go home and find back your smile. Recharge your battery. Tomorrow morning I want to see you here with your smile on. I will not ask you where your smile comes from, but please keep it".
Do members of your team have to be former athletes?
It's not necessary for them to come directly from the sport but they need to have a sport mentality, which means the ability to assume challenge, develop a strategy to win, and accept hard training. Not everyone comes from the sport, but a sporting background is good because sport forms your character. Of course, that's not the only basic requirement we set to the candidates. As I said earlier, attitude really matters. You can be a great competitor without being an athlete. What I want to see in candidates is ambition, commitment, and willingness to grow professionally. And I want to create managers of the future. One day I will be no longer the President but I would like to leave behind people who can do better than me in this job.
What is the 'portrait' of an ideal manager for your Federation?
Regarding the 'portrait', or skills of a good manager, I think a manager should be ambitious. But from my point of view, there are two kinds of ambition. One is pathological ambition, when people want to succeed just for the sake of their personal success. They are prepared to do anything but just for themselves, and that's not good.
Selfish?
Selfish, exactly. And there's social ambition, which means I want to grow and achieve my goal with other people. In our lives we must have an ambition to become better, but not through fighting against other people. Rather through working with other people. And then your capacity will generate a result but without "killing" other people. You know what I mean. But the main thing is you must have the ambition to grow with other people and work in a team. A group of people is always stronger than an individual. And some people just don't understand that. I think I have a reason to believe I'm not a bad manager because I have a great team behind me. They make me stronger.
A good example to help you understand my way of considering a team is the Roman combat formation known as "tortoise". It's when the men stand back to back creating a "turtle" with their shields, protecting each other. In this tactic everyone trusts each other and keeps their position. I tell my people that we are like in this Roman formation. If I see somebody leave the position, or stop protecting other people, this person will be sent out and then we will close the circuit again. Loyalty is the basis of good management. If you are not loyal, you are not part of my group. You can disagree but you must tell about your disagreements inside the group. After all, it's important to keep the formation to protect the men.
Tatyana Pomyatinskaya conducted this interview for RIOU