Полный текст
The Chair of the IOC Athletes' Commission, Claudia Bokel, today praised the Russian International Olympic University's (RIOU) "up-to-the-minute" Master of Sports Administration (MSA) course, after recent graduate Obakeng Ngwigwa was announced as the Technical Director of the Association of National Olympic Committees of Africa (ANOCA).
Ngwigwa's new role was announced last week and is the latest step in his career transition from elite 400-metre sprinter to successful sports administrator.As a sprinter Ngwigwa competed in the 2004 IAAF World Junior Championships, the 2006 Commonwealth Games, and the 2011 All-Africa Games.After stepping down from elite sport he was offered a place on the inaugural Master of Sports Administration (MSA) course at RIOU in Sochi for the academic year 2013/14. During his time in Sochi, Ngwigwa was fully immersed in the sports management profession, gaining theoretical knowledge through core modules – such as "Economics of Sports and the Olympics", "Governance, Policy and the Olympic Movement", and "Sport Marketing and Communications" – and through exclusive practical experience at the Sochi 2014 Winter Games.
Prior to Sochi 2014, Bokel, who competed in three Olympic Games in fencing winning a silver medal at Athens 2004 in the team épée, visited RIOU to deliver a guest lecture to the inaugural MSA intake, which included Ngwigwa, about career transition for athletes after retirement.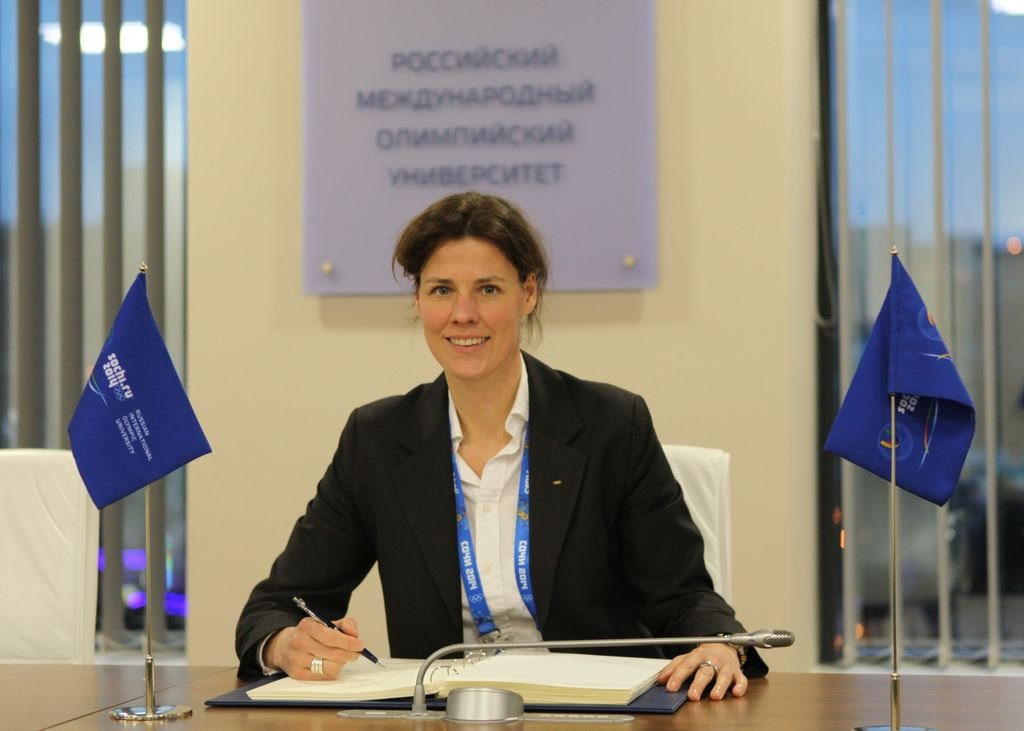 IOC Athlete's Commission Chair Claudia Bokel said: "RIOU does so much to help ambitious former elite athletes take their next career step and stories such as Obakeng's show that their approach is working. When I visited RIOU just before Sochi 2014 I was impressed by how up-to-the-minute RIOU's teachings were. It was clear that the management skills and operations being taught at the University were almost totally aligned with current practices in the sports industry. I wish Obakeng the very best of luck in his new role at ANOCA and I am sure he will make a positive impact on the Olympic Movement."
As Technical Director, Ngwigwa, 30, is tasked with providing technical assistance to ANOCA's 54 member National Olympic Committees in the areas of athlete and coach development, Olympic Solidarity programmes, funding and competitions.
Obakeng Ngwigwa said :"I am very excited about my new role with ANOCA and I am very proud to be playing a part in the development of sport and the Olympic Movement in Africa. My time at RIOU significantly raised my knowledge of how the Olympic Movement works, what values it is based on and what best practice operations look like across many different fields. I am really looking forward to applying my RIOU training in my new role at ANOCA."
RIOU Rector Professor Lev Belousov said: "Many, many congratulations to Obakeng for his appointment at ANOCA. He has secured a very high-profile role, one which will significantly contribute to the development of sport and the Olympic Movement in Africa, and to Africa's sporting influence on the world stage. I am very confident that the skills he developed and the Olympic values he learned during his time at RIOU will have prepared him well for his new job. RIOU's MSA courer."