Полный текст
On the eve of the XXIII Olympic Winter Games in Pyeongchang (South Korea) the Korean Ministry of Culture, Sports and Tourism (MCST) and the Korea Institute of Sport Science (KISS), a UNESCO-affiliated organization, hosted an international conference "The Olympic Vision: the Values and Impact of the Olympics and Paralympics Movement". The conference united around 200 participants including domestic and foreign speakers, relevant people in politics and academic experts from around the world in the field of Olympic sport and the impact of the Games on society, economy, and culture. The RIOU Rector Professor Lev Belousov was invited to the conference as a keynote speaker.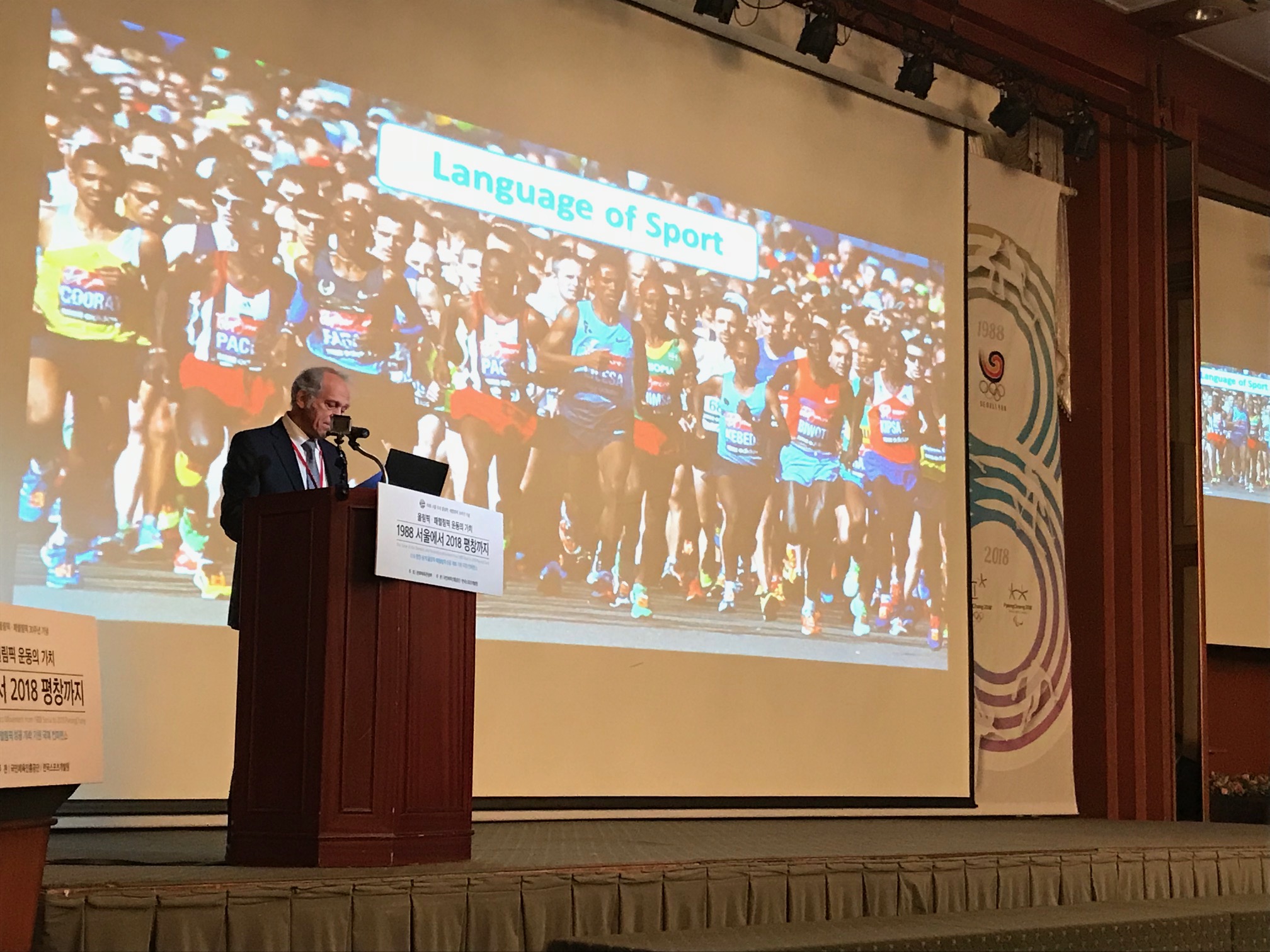 2018 is a meaningful year, marking both 30 years since the 1988 Seoul Summer Olympics and hosting the 2018 Pyeongchang Winter Olympics in February. With this in mind, the MCST and KISS organized an international conference looking back at the Olympics' and Olympic values' impact on society, economy, and culture.
The conference's main objective is a global examination of how the values of the Olympic Games have been expressed in the period from the 1988 Seoul Summer Olympics to the 2018 Pyeongchang Winter Olympics and into the future. The key areas of interest for the organizers included the proliferation of the positive legacy of the Olympic and Paralympic Movement and its connection with the sustainable development and the Olympics and Paralympics value proliferation relating to achieving the UN's Sustainable Development Goals. The conference included three sessions devoted to topics such as: "Olympics and Global Cooperation", "Olympics and Social Inclusion", "Olympics and the Economy".
Professor Belousov made a presentation titled "Olympic Legacy – the Tool for Peace?". In his speech RIOU Rector focused on sport's and Olympic Movement's important role in international politics, sports diplomacy, positive long-term benefits of the Olympic Games for the host region. He compared approaches of different states and Olympic cities to the Games management and legacy planning and showed examples of how the Olympic legacy serves the peace-keeping objectives.
A real breakthrough was the IOC's decision to allow South and North Korea to form a unified women's ice hockey team for the 2018 Games. As IOC President Thomas Bach said: "This team will enter the Olympic Stadium under the Korean Unification Flag. I'm sure that this will be a very emotional moment not only for the two Koreas, but for the entire world". Professor Belousov mentioned in his speech: "We hope that sport and the Olympic Games will contribute to building bridges between the two Koreas".
RIOU itself is a live example of the legacy that works as the tool for peace: over the years, RIOU has provided sports management training to representatives of about 50 countries, including South Korea. It's a unique pool of specialists equipped with state-of-the-art competencies and imbued with Olympic values. One of RIOU graduates is working with the Pyeongchang Organising Committee, and five current RIOU students are volunteering at the Games.