Полный текст
Two graduates of the RIOU's Master of Sport Administration course - Elizaveta Zhuk from Russia and Sukriti Bhardwaj from India who received their diplomas in Sochi – successfully completed their studies at the International Olympic Academy (IOA) in Greece. The young women took part in a four-week International Olympic Seminar for postdocs, PhD students and researchers who study various aspects of the Olympic movement. Elizaveta and Sukriti were admitted to the IOA after they received a recommendation from RIOU and successfully passed the competition of the IOA Academic Council.
The named above seminar is the main short-term course of the Academy, which attracts over 20 foreign researchers to the historical Olympic venues in Greece annually. This year the Academy hosted the 25th edition of the seminar and attracted 33 researchers from all over the world. Participants of the seminar studied the philosophy of ancient Olympic Games, the revival of the Olympic movement in the 19th century, socio-political and ethical aspects of the modern Olympic Games and presented their own papers on the seminar's topic.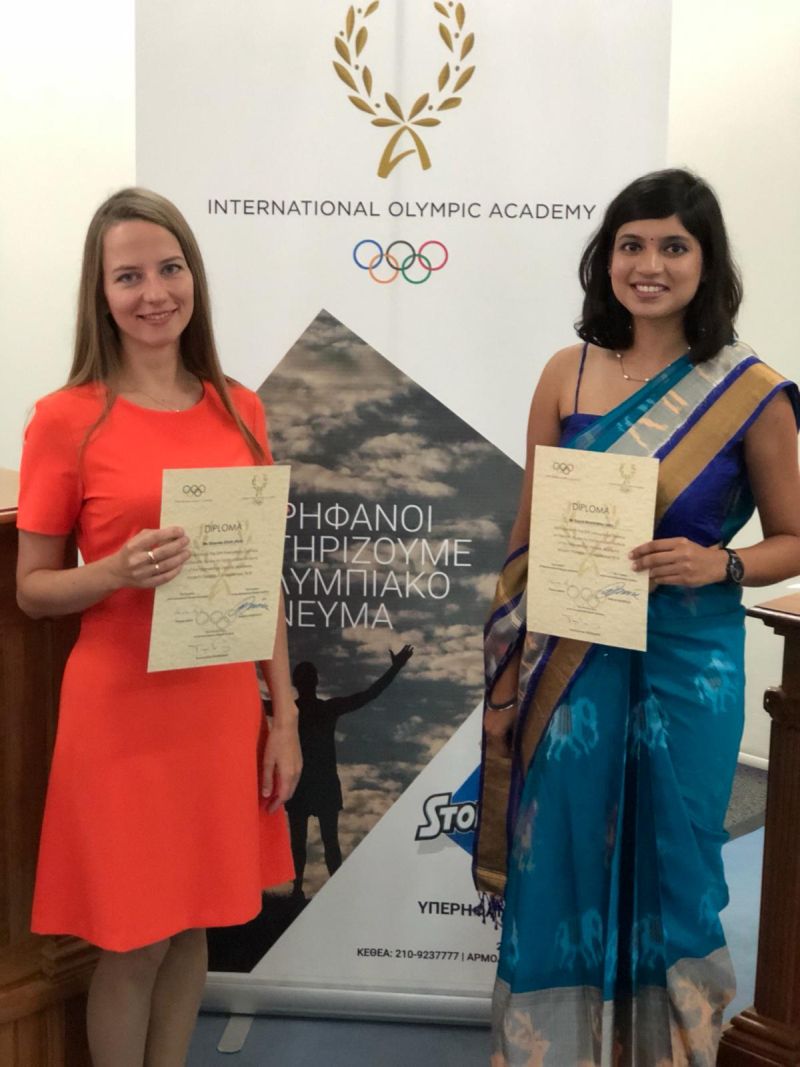 Sukriti Bhardwaj says: "I did it!" - that's the first thing I said to myself. I am very grateful to Providence and to RIOU Professor Jim Parry who's been helping me throughout the year to realize my dream. I'm sure I will take advantage of the new skills and knowledge that I acquired at RIOU and the IOA, and they will be of use to me in the very near future, when I start building a career in the sports industry".
Elizaveta Zhuk shares her memories: "I was very happy when I learned that I was selected to participate in the 25th International Olympic Seminar. The Russian International Olympic University not only gives excellent knowledge in the field of sports management, but also motivates to learn the new things and develop yourself professionally and scientifically. This is not surprising: our professors are outstanding sports experts, well-known all over the world, so this whole year I've been learning from the best of the best!"