Полный текст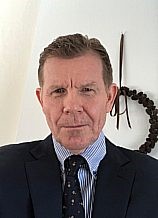 On February 11 and 12, 2019 Knut Audun Sorensen, the economic analyst from Norway, the member of the Olympic Committee of the Federation of International Bandy (FIB) will make the presentation at the RIOU Open Lecture Hall. The themes of his speeches will be: "Winter Sports Benchmarking" and "Principles and Values of Olympism in sports programs."
Knut Audun Sorensen is the financial analyst and entrepreneur, winter sports investigator and author of benchmarking articles. He worked as manager of the youth hockey teams in Norway, was the Chairman of the Management Board of the Ullevål idrettslag sports club, manager of the men's bandy national team in Norway.
In advance of the 5th anniversary of the XXII Winter Olympic Games, the meeting with this famous scientist, successful sports manager will be the outright gift for the RIOU students and for anyone interested in modern analytics of winter sports.
In recent years, Knut Audun Sorensen, together with the FIB, has been working on the prospect of including bandy in Olympic sports. At the core of his work is the statistical comparison of main facts and figures of bandy with 15 winter Olympic events. Among them there are ice hockey, figure skating, biathlon, bob-sleigh, freestyle, short track, ski jumping, skeleton, skiing, curling and others.
According to the expert, the Olympic Charter, the IOC winter sports policy and all the statistics show that the Winter Olympics need bandy. "Today, according to the main criteria, bandy is the sport number 2 among 15 winter Olympic events," says Mr. Sorensen.
The meeting with Knut Sorensen at the RIOU Olympic Lecture Hall became possible thanks to the partner support by the Russian Bandy Federation and its head President Boris Skrynnik, who is also the President of the Federation of International Bandy (FIB).
The public lectures will be held on February 11 and 12, 2019 from 4 pm to 6 pm in the RIOU conference hall (11 Ordzhonikidze Street, Sochi).
To register for the event click here